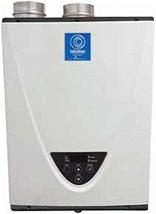 ENJOY ENDLESS HOT WATER
Install a HIGH-EFFICIENCY Gas On Demand Water Heater
State 340H & 540H Series On Demand Water Heater
http://www.statewaterheaters.com/products/residential/tankless/
The 340H series offers high efficiency Ultra-Low NOx condensing technology allowing for the use of 3″ PVC venting and has 0″ clearance to combustibles.
Utilizes HRS35 copper alloy for the heat exchanger tubing.
Remote control included as a standard feature.
Warranty Information** Residential Use:
15 years limited heat exchanger, 5 years limited parts
**Refer to www.statewaterheaters.com for further warranty details
State 340H Complete Installed Price Starting @ Only $3,150.00 Plus Gas Venting*
State 540H Complete Installed Price Starting @ Only $3,650.00 Plus Gas Venting*
This unit qualifies for NH & MA Energy Rebates
New NH Gas Venting Regulations forced a price increase on all new Power Vented Water Heaters
Click Below to read the NH State Bulletin on Venting Gas Appliances
https://www.nh.gov/safety/divisions/firesafety/bulletins/documents/2015-10-ApplianceVenting-SystemMaintenance.pdf
Installation includes the following:
Wall mount on plywood frame

To be side wall vented up to 10′.

Gas pipe modification up to 10′

Move water pipes to feed new heater location

Condensate Pump included

Removal and disposal of old water heater

Standard Installation
120v double outlet is required within 4′ of unit for power.
***Electrical is not included, New gas lines not included
Permit is additional if required. – Standard Installation as described. Additional parts may be required.
Cannot be combined with other offers or specials – While supplies last at this price.