New 2015 Regulations forced a price increase
on all new Water Heaters 
http://www.consumerreports.org/cro/news/2015/03/read-this-before-replacing-your-water-heater/index.htm
Natural or LP Gas Natural Draft
Water Heater

State Select 40 Gallon Water Heater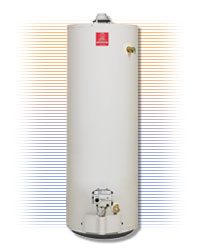 Installed Price Starting at for $1,700.00*
Features:
Tanks from 40-75 gallons with recovery rates of 41-72 gallons per hour and BTU inputs of 40,000-70,000
Long-lasting polymer dip tube with diffuser design to protect against lime and sediment buildup
Standard Intelli-Vent gas control with silicon nitride hot surface igniter to ensure optimum performance
6-year tank and parts warranty
Terms & Conditions: Permit & mixing valve are additional if required – Standard Installation – additional parts may be required  – Cannot be combined with other offers or specials – New installations are additional due to venting requirements – removal of old water heater included. New installations are additional. Some Chimney's may require a liner depending on local codes which is not included. 
*Mixing Valve Parts & Installation at time of service
Honeywell Thermostatic Mixing Valve Model # AM101C- 3/4″ – $225.00
Honeywell AMX300TLF 8″ LF W/H CONN MIXING VALVE KIT 3/4″ – $255.00
* Water Heater Pan and/or Auto Shutoff are additional per IPC code 504.7 Required pan. Where water heaters or hot water storage tanks are installed in locations where leakage of the tanks or connections will cause damage. 
* Cannot be combined with other offers or specials.