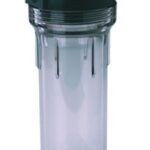 Install a Whole House Sediment Filter with copper ball valve bypass valves.
The right way to do it. (Ask and we will explain)
3/4″   $539.00 Installed
1″       $589.00 Installed
Aqua-Pure Whole House Filter System
Large diameter high flow filter for cold water
Sediment filter Included
Inlet/Outlet 1″ NPT
Flow Rate: 20 GPM (75.7lpm)
Max Temp: 100°F
Applicable Cartridges:
Dirt/Rust: AP810, AP811, AP814
Taste/Odor: AP815, AP817
Note: Flow Rates are based on the use of the Dirt/Rust Filter Cartridge and 1″ filter.
Recommended with Installation for On Demand Water Heaters